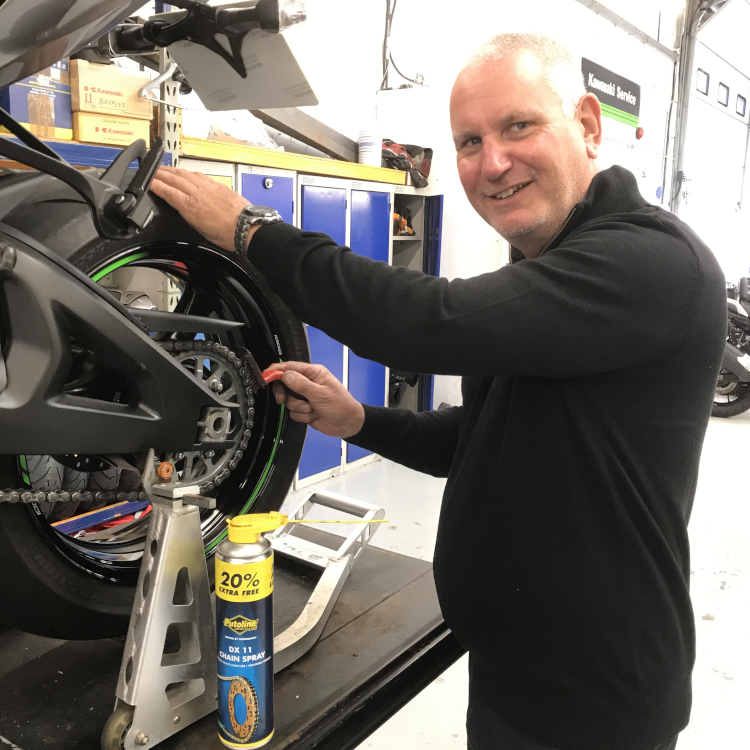 We take great pride in the quality and preparation of our used models and the skills of valeter Stewart Wakeling are a shining example.
Stewart, who also does some of our van deliveries, PDI road tests and builds new bikes straight out of the crate, has worked here for nearly four years.
Before that, he was a taxi driver for 30 years and ran his own company, but combined it with some car valeting. At 21, he was the youngest taxi driver in Ipswich – now you have to be at least 25 years old.
"I had been a customer here for 30 years and, one day, was asked to do a favour and get some parts. Then I was asked to do some valeting. When the valeting job came up, I joined the company."
And the rest, as they say, is history!
"I get great satisfaction restoring a used bike to its full glory," said Stewart, 54. "It is all about having the right products and knowing what to use where."
He reckons he has owned at least 20 bikes and his current mount is a Ducati Hypermotard 939 SP. He has just sold a Honda Fireblade that he used for track days.
Stewart can spend two to five hours bringing a used bike back to tip-top condition, depending on the state of it, stripping it down and getting into all the nooks and crannies so it looks like new when it goes into the showroom.
Whether you lay your bike up for the winter or carry on riding it, don't miss our feature in which Stewart passes on some of his top cleaning and protection tips.