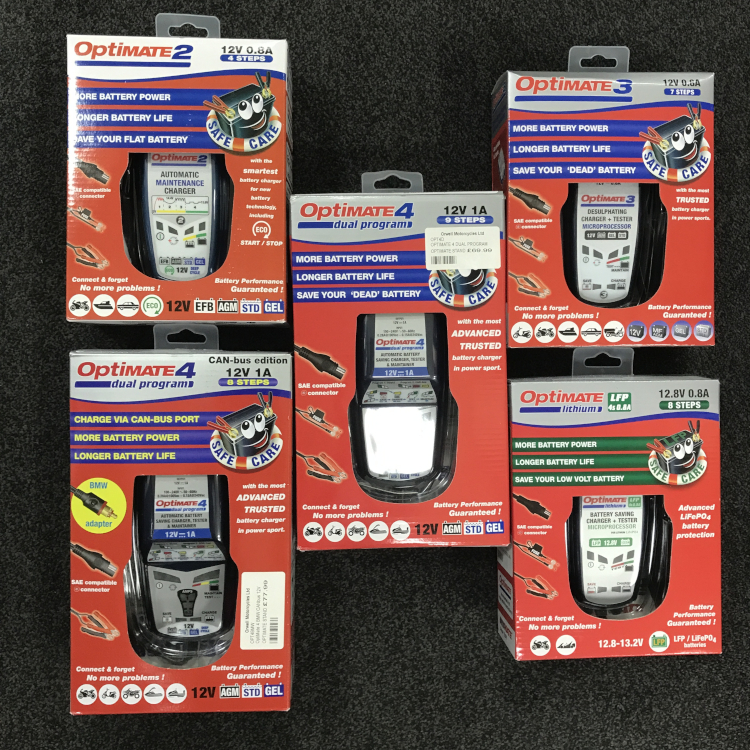 You've laid your bike up for the winter but when the weather improves for a ride out, the battery is flat broke, dead as a dodo!
At best, it's annoying and inconvenient, at worst it could cost you a new battery.
But more riders are switching on to a convenient and cost-effective way of maintaining their bike's battery when it's not being used.
We stock the Optimate battery maintenance range of products, priced from £49.99 – about the cost of a basic battery – to £104.99 for a solar-powered version.
James Wright, parts, clothing and accessories adviser, said: "The idea is they stop the battery from getting flat but also have more chance of recovering a completely flat battery than any other charger.
"They do a slow pulse charge which gently wakes up the battery rather than jumping it into life which affects the life of the battery.
"A lot of motorcyclists lay their bikes up through the winter and the Optimate products maintain the battery. With batteries costing from £50, a maintenance charger could be a good investment for the winter and is easy to use. You just lay the bike up, plug the battery in and forget about it."
Two leads with a socket attach to the battery terminals. The maintenance charger simply plugs into the socket to provide a trickle charge when the bike is not being used.
If you don't want to connect the leads to the battery yourself, our workshop can do it for you.
Optimate2 is priced £49.99 but our most popular model, Optimate3, costs £59.99. This full maintenance version replicates the battery being used – taking charge out and replacing it.
The dual program Optimate4 (£69.99) has a CAN bus port, found on BMWs, Ducatis and Triumphs.
The Optimate Lithium charger (£62.99) is for new lightweight batteries while Optimate Solar (£104.99) can charge the battery from a solar panel.
The Optimate range is claimed to provide more battery power and longer battery life, while also saving flat or dead batteries.
Find out more in our online shop: orwell.co.uk/shop/accessories/battery-care