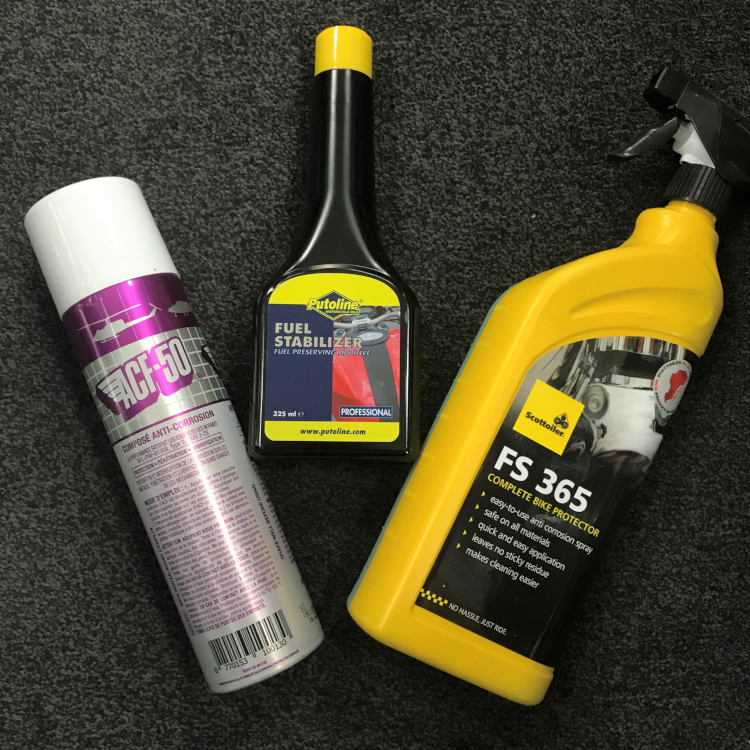 The clocks have gone back, temperatures have dropped and the weather is starting to feel wintry. That means a lot of bikers will mothball their mounts until spring.
But there are a few steps you need to take before storing your bike over winter.
Dave Forster, our parts, clothing and accessories manager, said: "A lot of people take their bikes off the road before it gets frosty and the roads start to be gritted. They don't want to get salt on them.
"From our experience, the majority of people take their bikes off the road because they have an alternative means of transport."
He has some top tips to keep your bike in tip-top condition so it's ready to ride when the weather warms up again.
Give your bike a really good clean and dry it thoroughly. You can buy special bike driers, starting from little more than £100.
Clean and lubricate the chain and linkages.
Polish the paintwork and plastics.
Use a protectant on the metalwork. Popular choices are ACF-50, Scottoiler FS 365, Muc-Off Motorcycle Protectant and GT85 with PTFE.
Modern thinking, especially with metal fuel tanks, is to leave it full of petrol so there is less room for condensation to build up and cause rusting inside. Modern petrol tends to separate so add a fuel stabiliser.
OptiMate battery maintenance chargers are easy to connect and keep the battery topped up over winter.
It is worth spinning the wheels, or moving the bike slightly, so the weight is not always sitting on the same area of the tyre because it can cause a flat spot. Some people, whose bikes have only a side stand, use paddock stands to take the weight off the tyres.
Cover it up, even in a garage, to keep dust off it.
You might want to think about changing the oil or even having it serviced so it is ready to ride and avoid the spring rush for maintenance.
Dave explained: "Most people service their bike in the spring when they are ready to ride again but it is good practice to do an oil change before winter storage and leave it with clean oil that's free from contaminants.
"If your bike is serviced when you put it away, as long as the battery is kept topped up, it is ready to go in the spring and avoid the rush as everyone wants their bike serviced at the same time."
And if you're tempted to fire up the bike, while it is laid up for winter, don't… unless you are going to take it for a ride to get it up to full operating temperature.
"If you just keep starting and stopping it, you can get it warm enough to build up condensation but not hot enough to burn it out and get it fully dry again.
"It can do more harm than good."
Preparing properly for winter storage also makes it easier to get the bike back on the road… simply check it over, paying special attention to tyre pressures and lights, and lube and, if necessary, adjust the chain.
Winter storage products are available in our dealership or from our online shop.