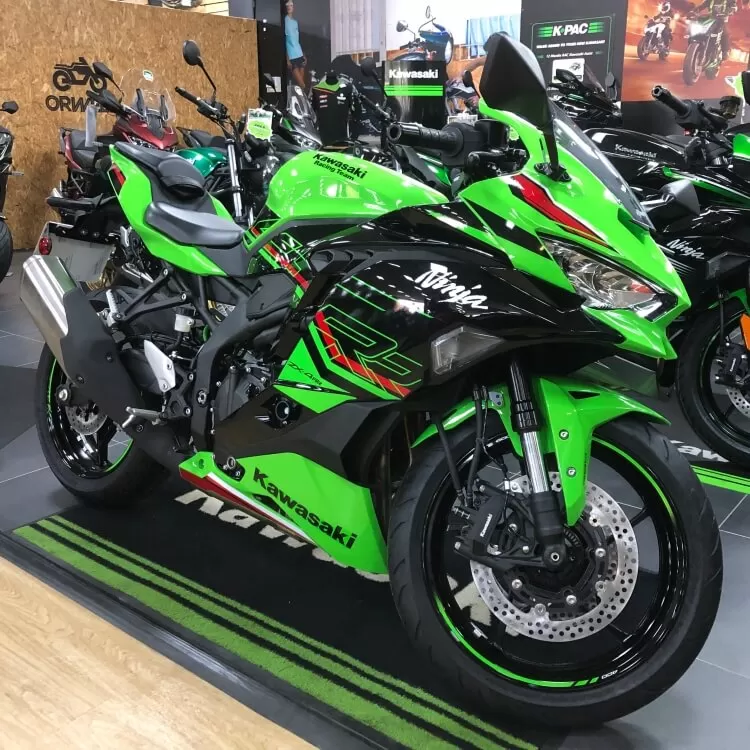 Kawasaki's new Ninja ZX-4RR has screamed into the showroom and is selling fast.
The arrival of the high-revving supersport pocket rocket coincides with Kawasaki revealing three new special editions to mark the 40th anniversary of Ninja next year.
The eye-catching lime green, pearl crystal white and blue livery, also used recently by Kawasaki race teams for a couple of rounds, will adorn special editions of the ZX-4RR, ZX-6R and ZX-10R.
The 40th anniversary ZX-4RR is priced £8,899, £200 more than the standard lime green and ebony version. The ZX-6R is £10,849 and the ZX-10R £17,749.
Our initial allocation of four ZX-4RRs have arrived at the dealership and three have already been sold while the other one is on display in the showroom.
Altogether we have taken nine orders, including four for the 40th anniversary version. As soon as we were made aware of the special edition we gave customers the chance to change their order for the new colour scheme which is expected to be launched in the first quarter of next year.
Stefan Walker, our Kawasaki sales executive, said: "There has been a big demand for the ZX-4RR.
"We took our first deposit on one in February when it was first announced."
The Ninja 40th anniversary models' styling is inspired by the championship-winning ZXR-7 of the early 1990s.
The frame and swingarm are painted silver, reminiscent of the aluminium parts used in the 80s and 90s, while lime green wheels add to the classic look. The model identity characters are based on the font used in the 80s and 90s.
The ZX-4RR is a niche model, the only full-fairing supersport model in the 400cc class. It is the spiritual successor to the ZXR400 four-cylinder sportbike launched in 1989.
The all-new 399cc, in-line four-cylinder engine spins to more than 15,000rpm to produce a class-leading 77PS, rising to 80PS when Suzuki's acclaimed Ram Air system is pressurised.
Find out more at orwell.co.uk/kawasaki/new-kawasaki-motorcycle-range/supersport-and-sports/ninja-zx-4rr and orwell.co.uk/kawasaki/new-kawasaki-motorcycle-range/supersport-and-sports/ninja-zx-4rr-40th-anniversary-edition
See Kawasaki's full supersport and sports range at orwell.co.uk/kawasaki/new-kawasaki-motorcycle-range/supersport-and-sports