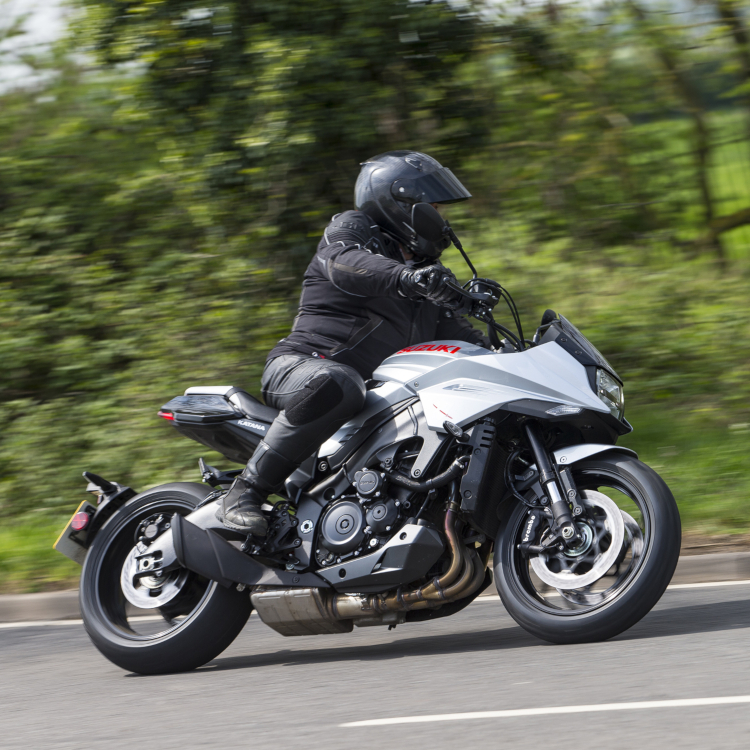 The highly-anticipated reborn Suzuki KATANA is in our showroom today (Friday 10 May) and brand ambassador Paul Macaree thoroughly enjoyed putting it through its paces.
Paul was impressed with the reinvented icon after a lengthy test ride from Suzuki GB's Milton Keynes headquarters.
"The KATANA is brilliant. We went out on fast A and B roads, doing about 100 miles on the bike and it was fantastic.
"I gave it some stick to make sure it goes all right," said Paul, still brimming with enthusiasm about this year's big Suzuki launch.
That's just the type of riding the new KATANA has been designed for. It might hark back to its 1981 forerunner of the same name from the Eighties but this new bike is a thoroughly modern machine.
It's powered by the 999cc, in-line, four-cylinder engine from the GSX-R1000 and uses the modern twin-spar aluminium alloy frame from the acclaimed GSX-S1000.
"The Suzuki GB team kept stressing to us all the time that the new KATANA is not a retro bike but is the motorcycle that the KATANA would have become, and how it would have looked, had it carried on to this point from the Eighties. It's today's version of the KATANA."
What really impressed Paul was the KATANA's super-smooth power delivery with a new twist grip action making fuelling much better to improve the low-down pick-up and iron out any snatchiness.
"The result is a much smoother power take-up before it really takes off at 5,000 to 6,000rpm.
"It has been designed as a quick and sporty bike. This is a proper sporty back-road machine you would really have a good play on for about 100 miles."
And that ties in with a range of around 120 miles on a tank of fuel.
"It is pitched as a weekend bike," explained Paul.
With 148bhp on tap, the KATANA offers strong performance considerably better than most 'retro' rivals.
"It's beautiful between bends with great handling as you throttle in and out of corners.
"It's a serious café racer, particularly for cafes with 100 miles between them," he added
It's helped that the KATANA is shod with specially-developed Dunlop Roadsport 2 tyres while a host of electronic rider aids include anti-stumble for the engine to stop it stalling at low revs, three-mode traction control, a slipper clutch for more focused rides and ABS-enabled Brembo radial calipers.
The large TFT KATANA-themed instrument screen also pays homage to the original bike, picking up its rev counter design while bringing it bang up to date.
A £999 Samurai accessory pack, saving £383 over buying individual parts, comprises a fly screen, red/black seat, carbon effect mudguard, engine covers, tank pad, wheel rim tape and red fairing and seat unit decal. The kit and comes in both colour options.
There is also going to be a range of stylish, aftermarket accessories from R&G Racing and Rizoma, for owners wanting to customise the look of their KATANA.
The KATANA, priced from £11,399, is available next month on a at 4.9% APR finance offer over three years with a £500 deposit.
Don't miss your chance to see the Suzuki KATANA in the metal in our showroom today. And, with initial supply limited, if you want one you'll need to be quick too!