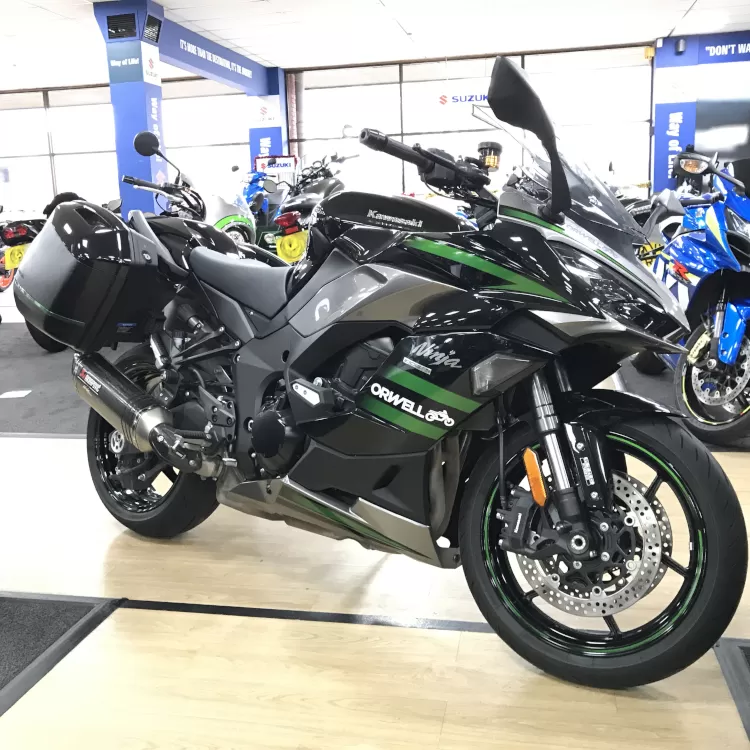 One of Kawasaki's strengths is creating special edition motorbikes kitted out to appeal to a wide range of customers.
One of its best-selling all-rounders is the Ninja 1000SX sports tourer, evolved from the Z1000SX which often topped the sales charts in several European markets.
It's available with £900 Tourer, £1,050 Performance and £2,050 Performance Tourer kits.
The £12,199 Ninja 1000SX Tourer Edition gets two colour-matched, 28-litre integrated panniers, a larger smoke windscreen and a GPS bracket.
The £12,349 Performance Edition has frame sliders, a smoke windscreen, gel tank pad, colour-coded seat cover plus the sporty sound and extra performance of an Akrapovič exhaust.
The Performance Tourer, at £13,349, gets both kits plus heated grips.
Sales manager Mark Trench said the special edition equipment kits were better value when bought with the bike than as individual items.
"That can help with the residual value and future part-exchange values because they've got all the kit. It can also help with the monthly payments for those customers who finance the motorbike using a PCP agreement.
"And there are customers in the used market looking for these special editions because they have these desirable options," he added. "They're often a wiser buying choice for that reason."
If you're interested, we've just added a Ninja 1000SX Performance Tourer to our demo fleet.
Find out about the new Kawasaki range at orwell.co.uk/kawasaki/orwell-kawasaki-ipswich