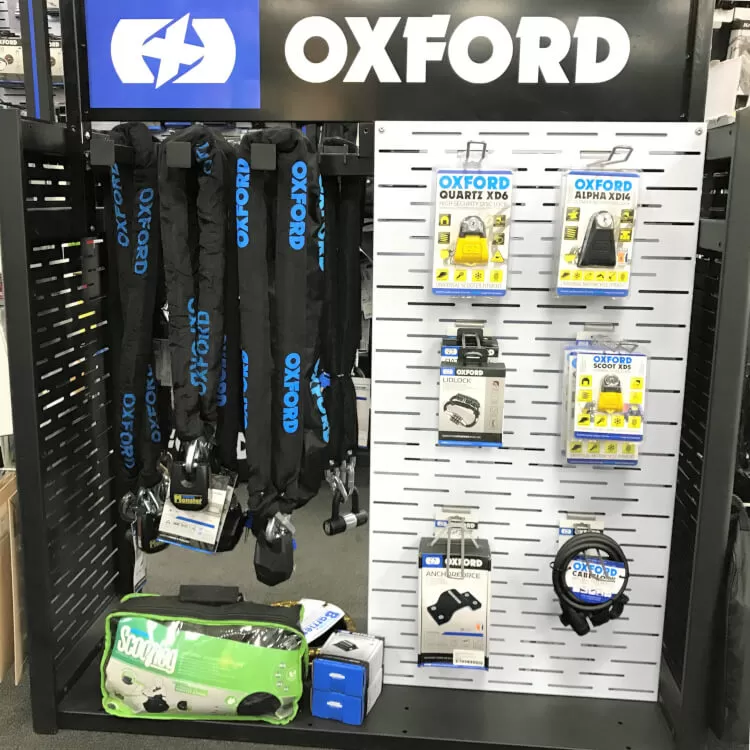 With the weather warming up, motorbike riders back on the road and reports of thefts, it's worth thinking about keeping your pride and joy safe when out and about.
We stock security devices which can help deter thieves and protect your bike when it's parked and unattended.
James Wright, one of our parts, clothing and accessories experts, offers some top tips for making your bike less attractive to criminals.
"A disc lock or chain lock is a visual deterrent. If your bike has one fitted, criminals are more likely to go for one that hasn't," he said.
A lot of parking areas have secure fixings to chain motorbikes to.
"It's always worth looking out for something to chain your bike to so it can't be carried away."
A disc lock is easy to carry, and stops the motorbike being wheeled away, but remember to unlock and remove it before you ride off!
Our range of disc locks cost from £27 to £100 with the more expensive ones also having alarms. Some are approved by vehicle security specialist Thatcham Research.
Many riders choose to use GPS bike trackers which provide 24/7 monitoring, alert the owner to movement and can help locate the motorbike should it be stolen.
A small tracking device, hidden on the bike by our workshop technicians, sends a signal showing where the bike is at all times. It can also alert the owner if the bike is moved or tampered with. As a result, a tracking device can cut the cost of your insurance.
Two of our popular tracking systems are the Datatool TrakKING GPS/GSM at £179 and BikeTrac at £300, both plus fitting. You also have to pay an annual subscription for the service. This is typically £99 p.a. but it can be paid monthly if you prefer. Multi-year discounted deals are also available.
Visit our online shop at orwell.co.uk/shop to check our range of security devices to help protect your pride and joy.