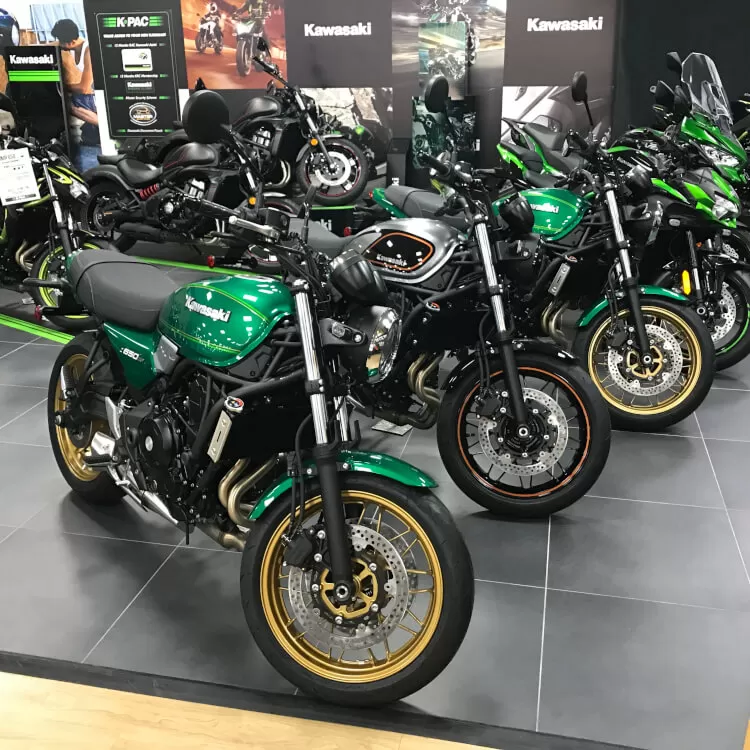 Kawasaki's newly-launched Z650RS is once again proving that 'Retro Sells' as it builds on the success of the popular Z900RS.
We sold two Z650RS models in one day and, now they're in the showroom awaiting collection, they're attracting a lot of interest, admiring looks and more orders.
Stefan Walker, our specialist Kawasaki sales executive, said the Z650RS, with the proven parallel twin engine, complemented the Z900RS with its in-line four-cylinder unit.
"There's been a lot of interest in the Z650RS, considering the time of year.
"I think the Z650RS is going to sell very well. It's well priced for someone who wants a smaller, lightweight machine, compared to the Z900RS.
"People clearly like the look of these retro bikes. The way the 900s have sold over the last four years means the Z650RS is going to sell in pretty decent numbers as well," he added.
We hope to have a Z650RS on our demo fleet next year.
The Z650RS, priced from £7,699, is finished in Candy Emerald Green, Metallic Spark Black and Metallic Moondust Gray/Ebony.
Three new colourways for the 2022 Z900RS are Candy Tone Blue, Metallic Diablo Black and Metallic Dark Green.
Find out more about the Kawasaki Z650RS and Z900RS ranges at orwell.co.uk/kawasaki/new-kawasaki-motorcycle-range/modern-classic