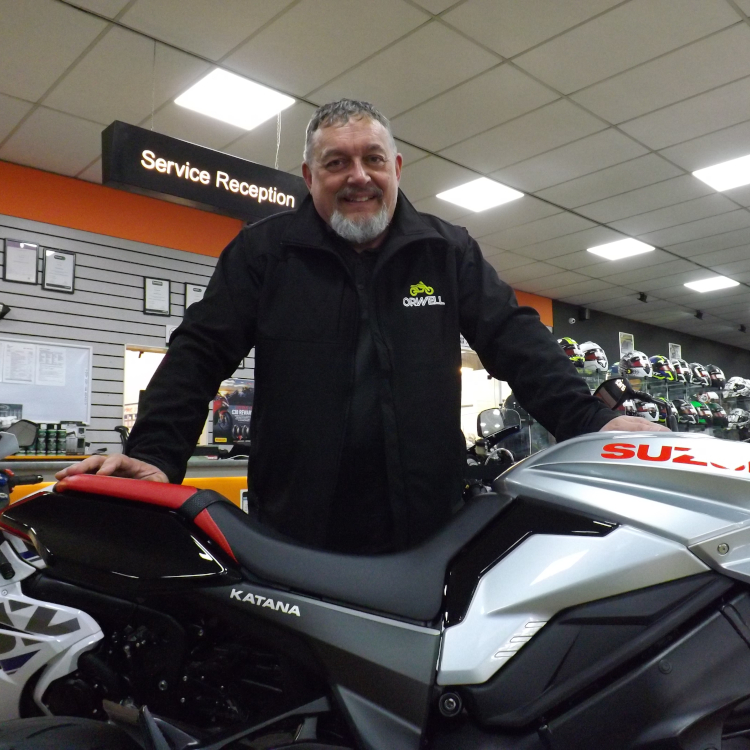 Our Suzuki ambassador, Paul Macaree, has the dubious honour of being our 'elder statesman' but he's got his dream job.
Paul readily admits that the only thing at Orwell Motorcycles born before him was a 1930s OK-Supreme with a 250cc Jap engine.
"It's the only thing here older than me," said Paul, 58.
He only started selling motorbikes when he joined us six years ago but his passion for two wheels goes back to when he was a boy and bought his first bike, a Honda SS90, when he was 11 years old. It was followed by BSA Bantams when he started off-road riding as a schoolboy.
At 17 he took to the road on a Suzuki TS100 and passed his test on a Suzuki GT250A.
Since then he reckons he has ridden well over 1,000,000 miles, helped by being a dispatch rider for 10 years, covering up to 2,000 miles a week.
His long and varied career has also included being a quality control inspector for a double-glazing company, a publican and owning a bed and breakfast business.
"I used to ride bikes for a living but now I live bikes and talk bikes. It's a dream job for me," he said.
Over the years he has owned more bikes than he cares to remember but he and partner Chrissie's current fleet are a Suzuki GSX-R1000, Kawasaki ZX-10R, Triumph Scrambler, 1974 Yamaha RD250, 1950s James with a Villiers engine and a 1934 BSA 350 side-valve single.
And has he ever fallen off? "Just about every one of them!"
Well, that explains the 38 bones he has broken over the years.