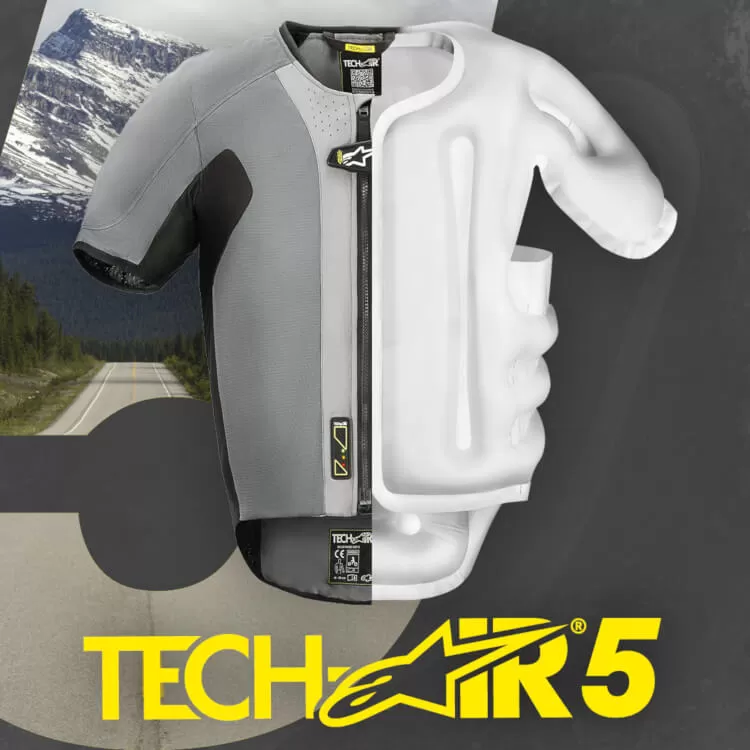 Motorcycling is about having fun while keeping safe.
A big part of being properly protected is wearing the right clothing, from head to toe.
We've just added the latest-generation body airbag to our wide range of products designed to help keep you safe in an accident.
Alpinestars, a pioneer in rider airbag vest technology with a wealth of racing know-how, has launched its all-new Tech-Air 5 autonomous motorcycling airbag.
Dave Forster, our parts, clothing and accessories manager, is impressed by this new airbag vest which offers unrivalled upper body protection.
"It has much bigger airbag coverage compared to rivals. That's because it covers the chest, back, sides of the rib cage and goes over the shoulders and top of the arms rather than being just a waistcoat design," he explained.
Another plus point is the airbag vest doesn't have to be tethered to the bike to trigger it if the wearer parts company with their machine.
Instead, an active electronic system features six integrated sensors - three gyroscopes and three accelerometers - and a crash algorithm so it can fully inflate all parts of the airbag in 20 to 40 milliseconds, should you have an accident or fall from the bike.
The Tech-Air 5 vest is designed to be worn under any textile or leather jacket that has enough space – an extra 4cm around the circumference of the body – for it to inflate.
Wearing the airbag reduces the impact force by up to 95% compared to a passive protector.
The lithium ion battery, charged via a micro USB charger, gives 30 hours of riding time while an LED display indicates the airbag's operational status. A dedicated phone app also gives a detailed analysis of a ride.
Alpinestars began developing the original Tech-Air system nearly 20 years ago, working with top MotoGP riders and analysing thousands of crashes. Launched in 2014, it was recognised as the world's first wearable airbag system, independent of the motorcycle.
Available in sizes XS to 4XL, the Tech-Air5 vest is priced at £569.99 but, unlike other airbag vests, there is no subscription fee to be added.
Check out the Alpinestars Tech-Air 5 airbag vest in our online shop.