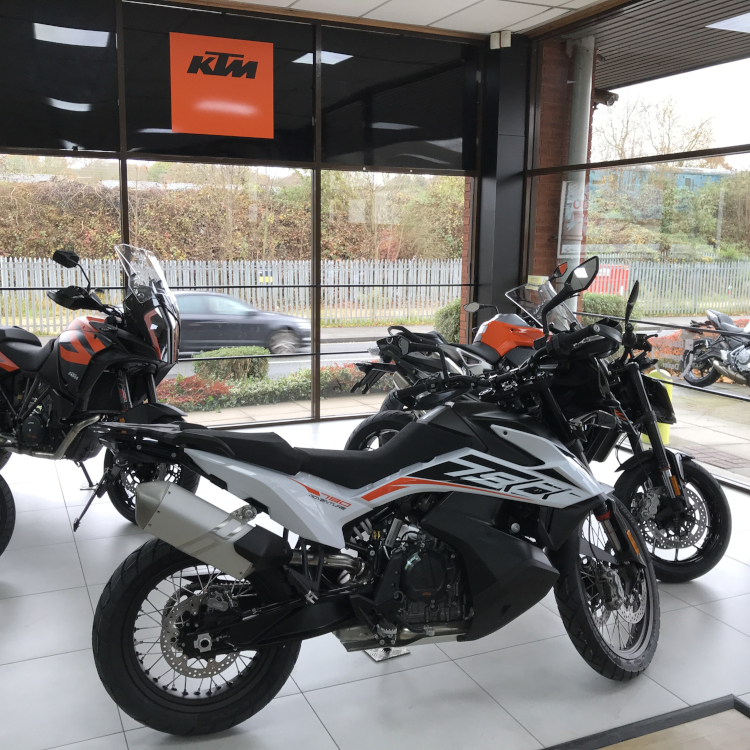 The letters KTM have taken on another meaning since we took on the new franchise and became Suffolk's KTM street bike dealership...
It also stands for 'Keep Them Moving' as we reorganise our showroom and other bikes to make space for the Austrian motorcycle manufacturer's popular adventure, sports and superbike ranges.
We've created a new KTM display area beside our front door and in full view of people passing by on Ranelagh Road.
We've already got 12 bikes from across the KTM range, including 1290 Super Adventure S, 790 Duke and Adventure and 125 Duke. More exciting new models from the Adventure, Sports Tourer, Supermoto, Supersport and Naked ranges will arrive in the showroom from January.
Director Dave Willis said: "We're looking to have up to 25 KTM bikes in the showroom, the full line-up with something from each range."
The new franchise is already drawing customers in the showroom. We've already sold three brand new bikes as well as some used models.
"We are seeing completely different customers. Some people will only ride KTMs so the franchise is bringing new people into the showroom.
"And it also means owners have not got to travel such a long way to get their bikes serviced."
We will also be selling KTM accessories and clothing while our workshop technicians have had specialist KTM training and the parts team are up to speed with the KTM dealer website.
We're also planning an official KTM launch event for customers in late January so don't miss next month's newsletter for more details.
Find out more about the KTM street bike range at www.orwell.co.uk