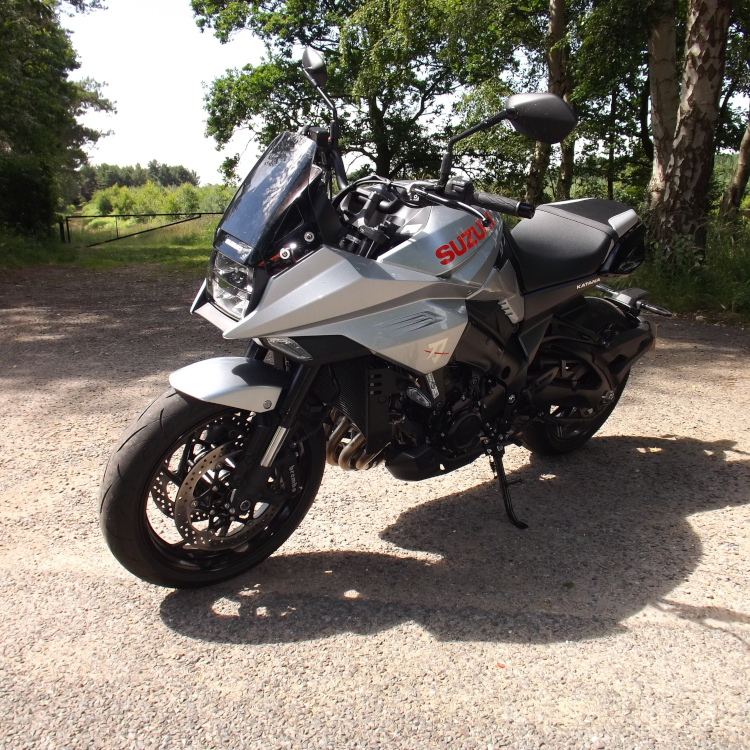 Motoring journalist Andy Russell reviews Suzuki's new KATANA...
Forty years ago, when I was young, sports bikes were quick. Their modern successors, by comparison, are ballistic!
So I was apprehensive about riding Suzuki's reborn KATANA, especially as I've never ridden anything so powerful.
But, with everyone who's tried this modern interpretation of the iconic 1981 GSX1100S KATANA, raving about it, it had to be done. And what a pleasant surprise.
The 148bhp custom long-stroke version of the 999cc, in-line four, that first proved itself in the GSX-R1000, is as flexible as it is fast. It will trickle along at 40mph in sixth gear and pick up cleanly. A new throttle control means no snatchy power delivery.
It's as happy bumbling along B-roads, rolling on and off the throttle, as blasting about on track days.
Hit 5,000rpm and the KATANA comes alive, racing round the digital rev counter and sounding glorious with the induction roar and exhaust note tuned to heighten the riding pleasure.
Four-stage traction control puts the power on to the road safely while the sharp, confident handling does not come at the expense of a bone-jarring ride.
And, even at a tad under 5ft 8in tall, I could get both feet on the ground, hold the bike up comfortably and didn't feel dwarfed by it.
The KATANA, priced from £11,399, is available in silver and black finishes, both of which are now in our showroom.
A special Samurai pack, costing £999, includes a fly screen, red and black seat, carbon-effect front mudguard and engine covers, protective tank pad, wheel rim tape and red top fairing and seat unit decal. This represents a saving of £383 over the cost of the individual items.
Take it from me, take the KATANA for a test ride. This is one bike that lives up to the hype.