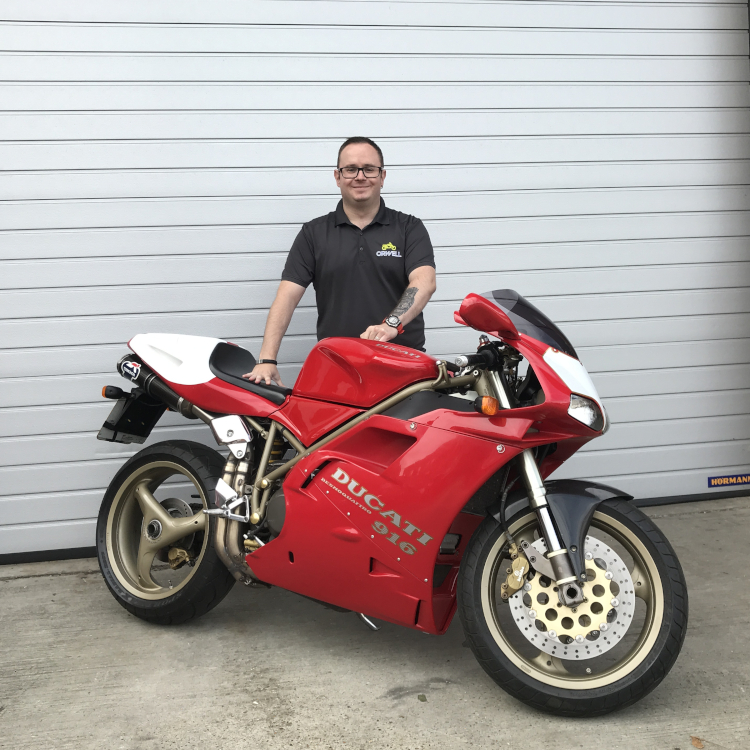 James Wright lives and loves motorbikes so is an ideal person to share his knowledge with our customers.
He's been involved in the motorcycle industry for 14 years, always in parts, clothing and accessories, the last eight of them at Orwell Motorcycles.
He loves helping people find the best riding equipment to meet their needs.
A big fan of Ducatis, his current rides are a Monster 696 and a 748, the latter now used as a track bike, as well as a Suzuki Address 110 scooter for commuting.
But the 28-year-old's collection of 'project' bikes also includes a Suzuki TS185, Yamaha TZR50 (which he's had since he was 16), Yamaha FZR1000, Honda RVF400 and Honda CBR600RR, which is currently having an engine rebuild.
"I have collected them over the years in various states of repair and they've all needed some work. They've all been on the road at some point.
"I enjoy working on motorbikes, riding them and doing track days. I enjoy anything to do with motorcycles. It's in my blood."
With his grandfather and father both having motorbikes, James is following in the family tradition… in a big way. He's also been doing track days for seven years so can share his knowledge of this popular past-time.
James also enjoys working in our expert parts, clothing and accessories team.
"I like the clothing aspect and helping people to get what suits their needs. It's about guiding people to the right product to make sure it does the job they need it to do," he explained.
When it comes to parts, it's often a case of making sure customers have everything necessary to complete the job, which is where his experience comes to the fore.
"I still remember a few old Ducati and Suzuki parts numbers!" he added.