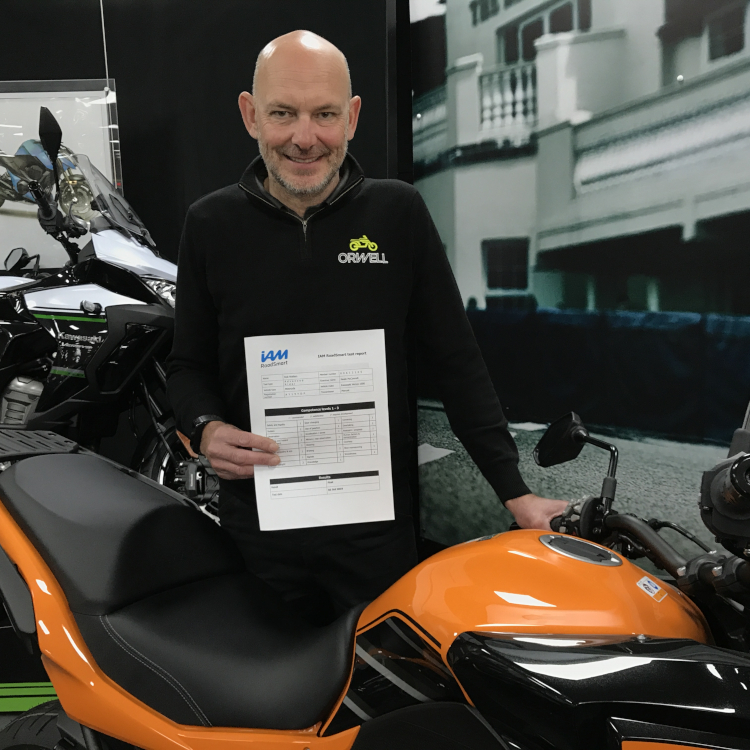 Rob Walters has put his riding skills to the test by doing his IAM RoadSmart advanced motorcycle test with the help of Suffolk Advanced Motorcyclists (SAM).
Not only did he pass but he did so with a top-grade F1RST which recognises excellence… an even bigger achievement as it rained on his test.
Orwell Motorcycles director Rob has been riding motorcycles for 44 years, 35 of them on the road, but still found his advanced motorcycle training a valuable learning experience.
Rob did a Safe Rider course, an introduction to advanced riding last year, with Suffolk police and decided to take his motorcycle training to the next level with IAM.
"I did it out of curiosity to find out what it was all about and because we work closely with, and support, SAM and they support us at our demo days.
"Anything that makes riding a bike safer has to be supported."
Rob had half a dozen accompanied assessments rides with his designated IAM observer, Mike Roberts, and a cross check with another observer before his test.
He chose a Kawasaki Versys 1000, for its all-round abilities, to take his test on but also appreciated how different styles of bike have an impact on your riding style, taking into account engine braking and handling.
"A friend of mine - Kev Brendish, whom I have ridden with for years since we were youths - is now a national observer. He told me how valuable the IAM advanced rider training is and how you can develop your riding skills with different elements from what you learn," said Rob who will be using his experience to promote the IAM training to other bikers.
So what was the best thing he took away from his training?
"I didn't really appreciate what you learn from vanishing points as you approach and leave bends," he said.
Find out more about SAM and IAM advanced motorcycle training at www.suffolk-advanced-motorcyclists.com