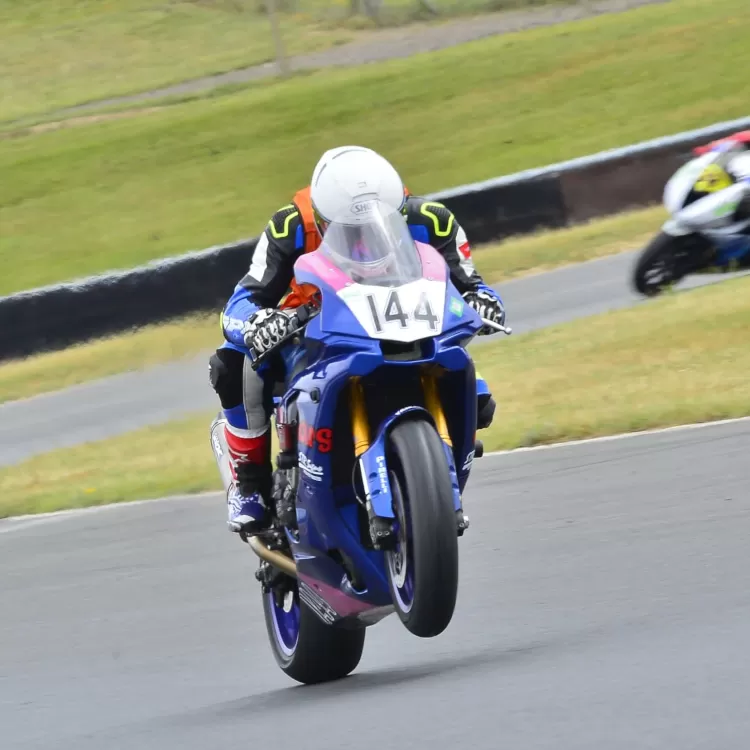 We're supporting a motorbike racing fab four for the coming season and hope you'll join us in following their progress and watching them in action.
Our backing extends to helping them with the cost of parts, clothing and accessories.
This year the four riders we're backing are:
Corey Tinker, 14, returns to the British Talent Cup (BTC), part of the British Superbike Championship, for a second season and is looking to build on last year's success.
He finished 13th overall in the 2019 British Talent Cup, and sixth in the former Motorstar class, but was the top rookie rider. He hopes to be even more competitive this season.
This is his fifth year of racing and his Moto3 NSF 250 bike bears number 37.
He's doing some winter testing in Cartagena, Spain, before going on to BTC training at Jerez, Spain.
The 2020 BTC calendar, of 20 races over 10 weekends, is:
Silverstone: 10-12 April
Oulton Park: 1-3 May
Donington: 22-24 May
Snetterton: 19-21 June
Knockhill: 10-12 July
Brands Hatch: 24-26 July
Thruxton: 7-9 August
Silverstone: 28-30 August
Assen (Netherlands): 18-20 September
Donington: 2-4 October
For more details visit www.britishtalentcup.com
Alan Smith will be riding his Kawasaki ZX-10R, bought new from us in 2015 and bearing the number 24, in the British Motorcycle Racing Club (BMCRC) MRO Powerbikes class.
We've been supporting Alan with a sponsorship deal for many years.
He recently got back from winter testing in Jerez, in Spain, and launches his latest campaign at Brands Hatch on the weekend of 7-8 March.
The Bemsee calendar is:
Brands Hatch Indy: 7-8 March
Silverstone International: 4-5 April
Oulton Park: 8-9 May
Snetterton 300: 6-7 June
Cadwell Park: 27-28 June
Brands GP: 18-19 July
Cadwell Park: 8-9 August (Sidecar Revival will feature some Bemsee content)
Donington Park: 5-6 September
Brands Hatch Indy: 3-4 October
Find out more at www.bemsee.net
Brad Williams is riding his Yamaha R1, number 44, and, even though we're no longer a Yamaha dealership, we can still help him out by ordering and supplying genuine Yamaha parts. We can offer this service to all Yamaha owners.
Brad, 27, who is racing in the No Limits Newcomer 1000 class, has done some endurance racing over the last couple of years but this is his first full season. With a win and a few podium places, he is confident of being competitive.
His season starts at Snetterton 300 on March 21 and 22.
The full No Limits calendar is:
Snetterton 300: 21-22 March
Donington Park National: 25-26 April
Croft: 9-10 May
Cadwell Park: 13-14 June
Anglesey Coastal: 18-19 July
Snetterton 300: 1 August (eight-hour endurance only)
Oulton Park International: 14-15 August
Cadwell Park: 12-13 September
Donington Park GP: 10-11 October
Find out more at www.nolimitsracing.co.uk
Fred McMullan, 12, is riding a restricted Kawasaki Ninja 400, number 50, in the Bemsee Team Green Junior Cup run by the British Motorcycle Racing Club (BMCRC).
Fred, from Leiston, will be riding his bike for the first time in the first round at Brands Hatch on 6-8 March with testing on the Friday and racing on the Saturday and Sunday.
The weekend will be made even more special because the independent rider becomes a teenager on the Sunday and had to get special permission to take part ahead of his 13th birthday.
The Bemsee race dates are the same as those above for Alan Smith.
He started racing in Mini GP UK aged eight.
Follow the series at www.bemsee.net