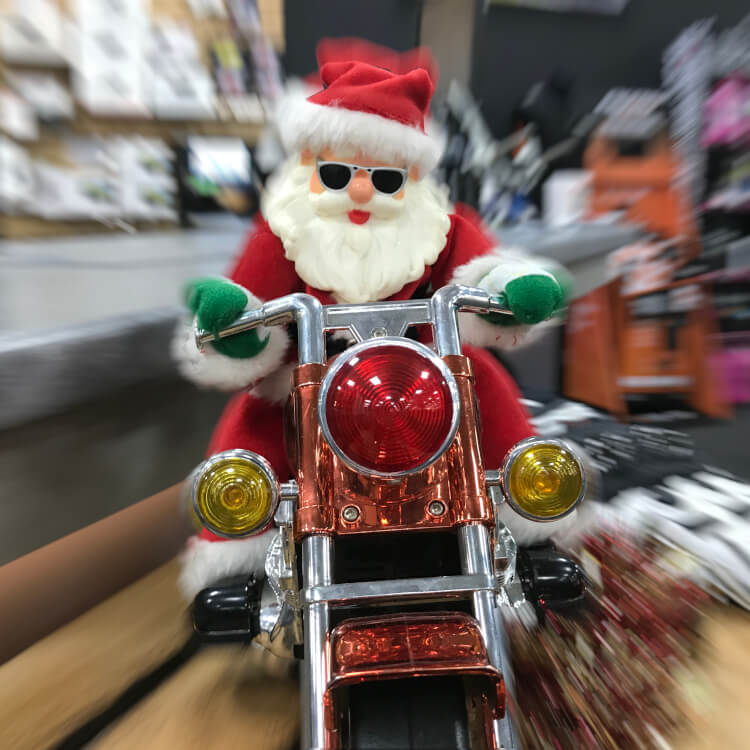 We're getting in the Christmas spirit and hoping you'll have some festive fun with our 12 questions for Christmas competition.
They all relate to Orwell Motorcycles, our brands and our team. To make it more interesting there are three prizes of £25 of gift vouchers for the three winning correct entries to be drawn at random on 21 December.
1. We've just taken on the KTM street bike franchise but what is the brand's home country?
2. Suzuki has reinvented a sports bike originally launched in 1981. What is it?
3. Which British Superbike Championship Suzuki rider was the star of an exclusive evening event in our showroom in June?
4. And which double British championship winner, former British and world superbike racing star and TV pundit hosted it?
5. A new bike show, which we partnered, was launched at a venue near Ipswich in May but where?
6. Motoring journalist Andy Russell reviewed a pair of motorbike boots last month. What brand were they?
7. We're currently running an offer on Oxford heated grips. How much do they cost, including fitting?
8. What are our three motorcycle franchises?
9. Suzuki is bringing out revised V-Strom models for 2020. What are the big-engined models badged?
10. What is the discounted labour rate in our winter service offer during December and January?
11. Who are our Suzuki and Kawasaki brand ambassadors?
12. What is KTM's motto?
Email your answers to spares@orwell.co.uk. Feel free to share our quiz with friends and family, who may not have signed up to our monthly newsletter, so they can also email their answers to us. In exchange, we'll add them to our monthly newsletter mailing list so they can keep in touch with what we're up to in 2020.
The three winners, with all the right answers or the most correct, will be drawn at random on 21 December 2019.