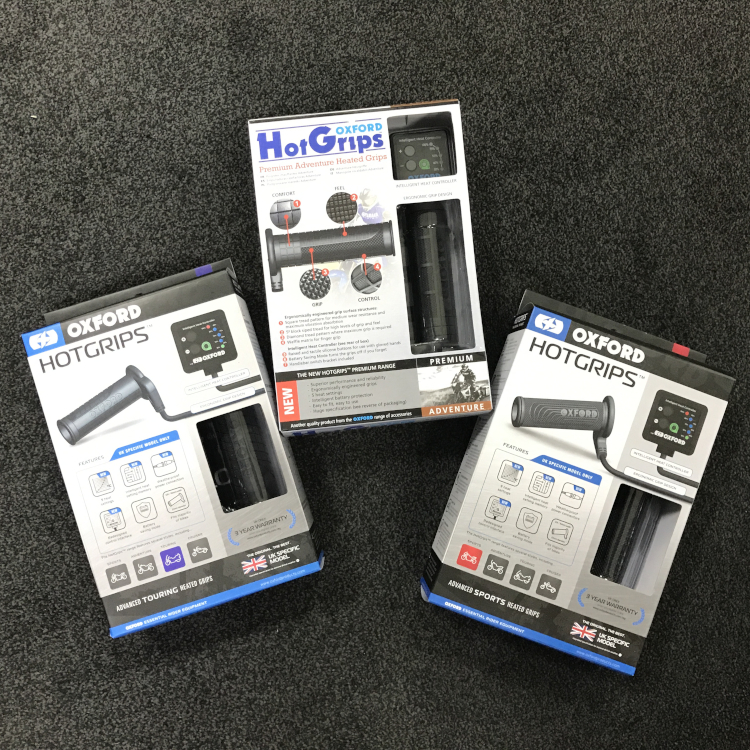 Cold hands make a ride miserable and dangerous if you can't feel the controls.
That's why more riders are switching on to fitting heated grips to avoid frozen fingers!
We stock a range of Oxford Hotgrips heated grips with various styles for sports, adventure and touring bikes, as well as retro ones for older and classic bikes.
They are priced £79.99 and, if you cannot fit them yourself, our workshop can do so in an hour.
Dave Forster, our parts, clothing and accessories manager, recommends hard-wiring heated grips to the bike so there's no chance of draining the battery if they were left on. This is how our workshop fits them.
"It's best to have heated grips hard-wired so, as soon as the ignition is off, they turn off, rather than relying on the battery save mode."
He rates the Oxford Hotgrips, which have up to nine heat settings, as being as good as some more expensive manufacturer products.
"They've been around for a while but have become really popular over the last two or three years.
"We find a lot of people, even in spring and autumn, use them in the mornings when it's still cold. At this time of year it's still pretty fresh in the morning."
We are giving away a pair of Oxford Hotgrips heated motorbike grips in our latest competition.
All you have to do is answer this simple question: What brand of aftermarket heated grips does Orwell Motorcycles stock?
Email your answer, along with your contact details, to spares@orwell.co.uk by the closing date of Monday 30 September.
The winning entry will be selected at random from the correct entries after the closing date. Employees of Orwell Motorcycles and their immediate families cannot enter. The directors' decision is final and no correspondence will be entered into.