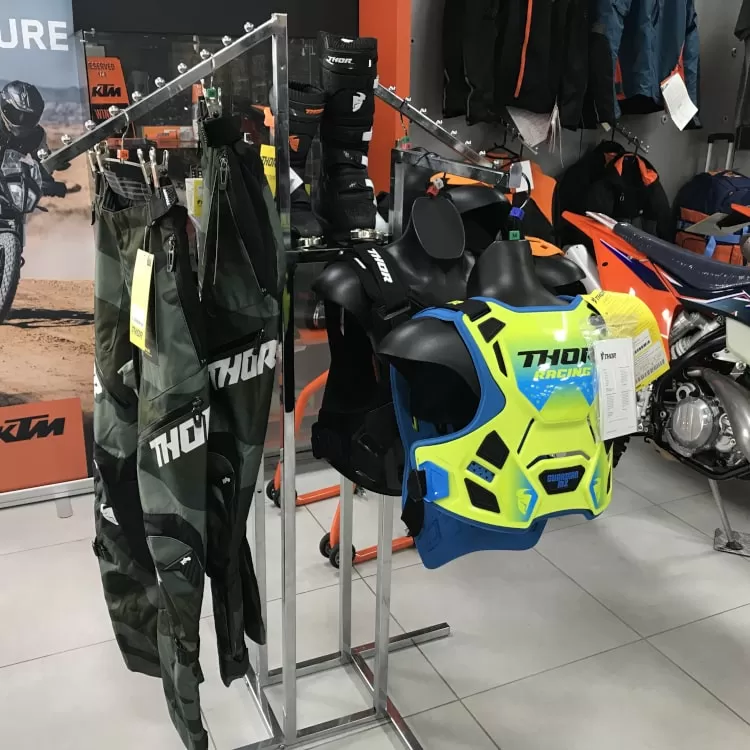 We like to offer a full service as a one-stop shop for our customers' needs.
Having also become a KTM off-road motorbike franchise, selling its Enduro and Motocross ranges, we've expanded our range of off-road clothing.
We've now added the ThorMX motocross clothing to our KTM off-road product range.
Daniel Williams, parts, clothing and accessories manager, said Thor was one of the biggest brands for motocross clothing and equipment.
KTM-branded clothing is popular but the Thor range has wider appeal to non-KTM riders with more universal designs.
We've set up a new display, near the off-road bikes, which includes Thor off-road jerseys and pants, roost body guards, body armour, gloves and boots.
We supply the adult and youth ranges of Thor products.
We're also stocking helmets designed for motocross use with goggles. Compared to road helmets, motocross protective headgear is lighter, less padded and better ventilated. They also offer a wider field of vision while a peak and goggles help protect the rider from mud, muck, dirt and stones.
Our clothing ranges also include Enduro jackets and trousers which are heavier duty but still lightweight compared to traditional road-riding gear.
"Some people also use them for summer riding," said Daniel.
"We've always been asked for off-road clothing but even more so now that we sell enduros and motocross motorbikes."
To see our full range of clothing visit our online shop at orwell.co.uk/shop