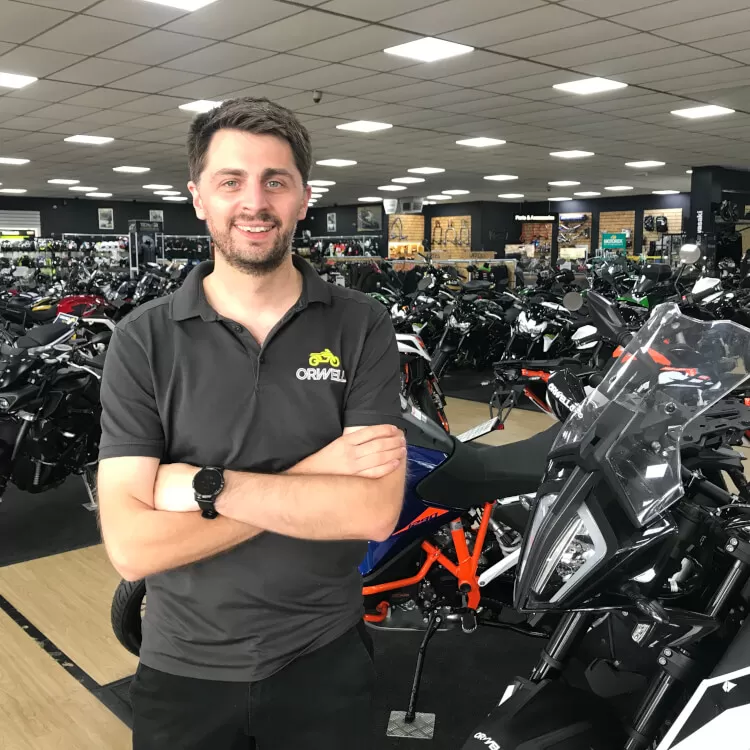 Congratulations to David Forster who has been promoted to the new role of general manager.
David, 34, has been with the business for nearly 17 years. He started as an assistant in the parts, clothing and accessories department and became manager nearly five years ago.
"I like to think I know a little bit about the business now," he joked.
"I'm very excited about my new role as general manager. It's a great opportunity to have more input into moving the business forward to benefit Orwell Motorcycles and its loyal customers."
Director Dave Willis spends much of his time in the office, looking after running the business and finances, while fellow director Rob Walters oversees the workshop and is often out of the business delivering motorbikes.
Dave said: "Rob and I are not always able to be as involved in the day-to-day running of the business as we would like, so we need someone who can make sure everything runs smoothly and keep us in the loop about what we need to know.
"David has been here nearly 17 years and knows the business inside out."
In his new role, from 1 July, David will be taking an overview of the day-to-day running of the business, working closely with sales manager Mark Trench and Daniel Williams who takes over the manager's role in the parts, clothing and accessories department.
Daniel is the longest-serving member of our team, having worked here for 23 years, and has loads of knowledge and experience about parts, clothing and accessories.
We're also taking on two more assistants in the parts department to replace Dan and to enable us to have an extra person on the shop floor who can help and advise customers looking at clothing, helmets and accessories.