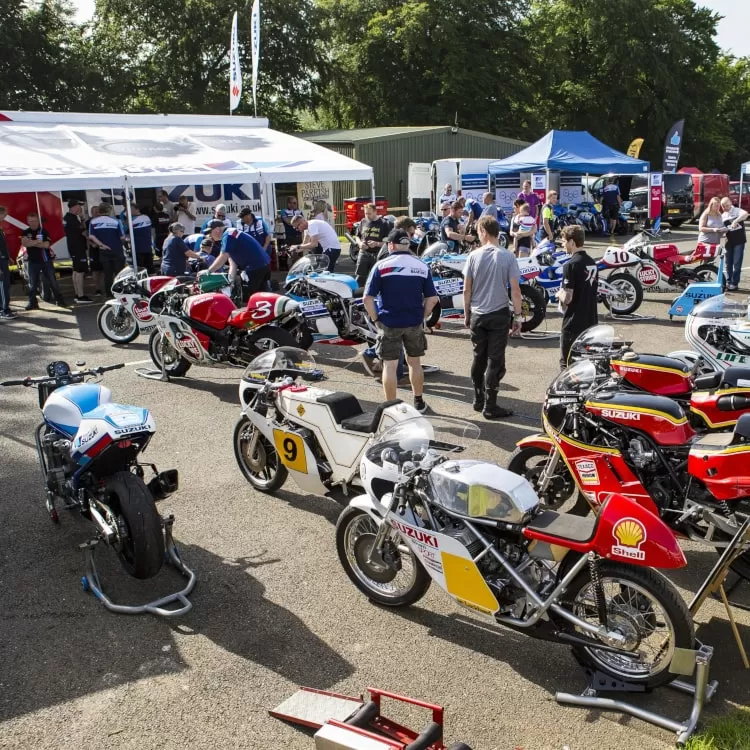 Fancy a ride out and a day immersed in Suzuki motorbikes? Then head to Cadwell Park on Friday 10 June for the first 'Suzuki Live' event.
Owners and enthusiasts will be gathering at the race circuit, near Louth in Lincolnshire, where the Japanese firm will celebrate new and old models.
The day will bring together track sessions for bikes of all ages, test rides, special guests, classic bike displays and a parade lap for five of Barry Sheene's iconic race bikes, recently restored by Suzuki's Vintage Parts Programme.
Celebrity special guests will include three-time British Superbike champion John Reynolds and World Superbike and EWC champion and MotoGP test rider-extraordinaire Sylvain Guintoli, and Danny Webb, who will be out on the RG500 he campaigned at the Classic TT for Team Classic Suzuki.
Key models from Suzuki's on-road product range – including the new GSX-S1000GT sports tourer, GSX-S1000 naked and third-generation Hayabusa – will be available to test ride on the day on the roads surrounding Cadwell Park.
Those wishing to take a test ride must present a valid licence and produce a DVLA check code or National Insurance number.
A classic bike display will comprise a 1985 GSX-R750F, TL1000s built brand new by the Vintage Parts Programme in 2014, a 1991 GSX-R1100L and the Team Classic Suzuki Katana endurance racer.
Split into three groups, there are 111 track day spaces available, starting from 9am and costing £135 per person. Access is free to those wishing to watch the action and parades, or take a test ride.
The three groups are based on the riders' experience and bike – 'classic novice' for those new to track days or riding older classic machines, 'classic intermediate' for those more familiar with track days or riding a classic model and 'open advanced' for experienced riders on the latest Suzukis.
Sheene's five Grand Prix bikes in the parade will include the RT67 125cc machine raced in the world championship by Stuart Graham in 1967, before being bought by Sheene in 1970 and raced in Grand Prix in 1971.
The others are the 1984 XR45, being ridden by Sheene's son Freddie, the 1976 and 1977 world championship-winning XR14s and the XR23A, a 652cc, big-bore RG500 raced in the Trans Atlantic series.
For more information and to book a track session visit bike.msvtrackdays.com/Calendar/Bike/CadwellPark/2022/6/10