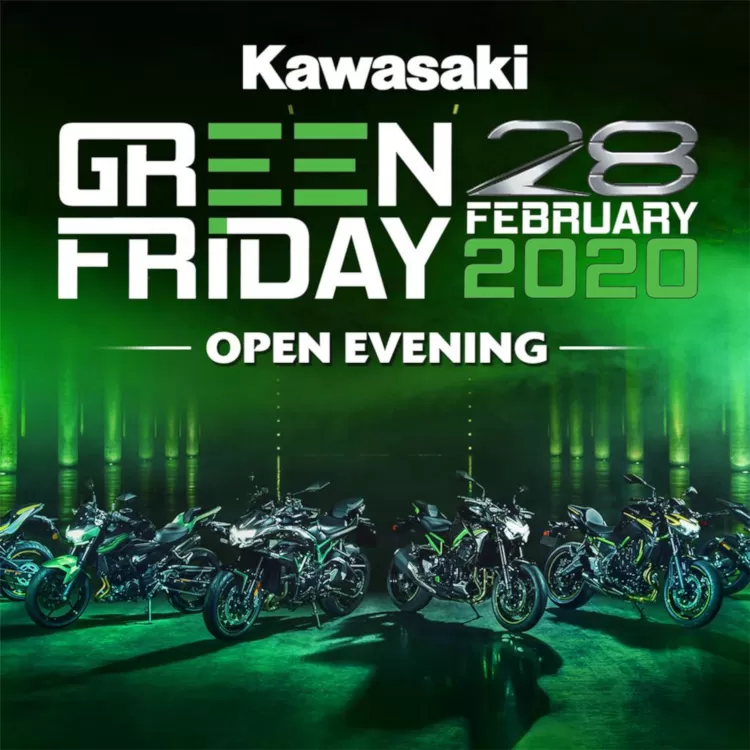 We're excited about Kawasaki's Green Friday launch event this month – and sure you will be too with all the new and updated models you're going to see.
Our showroom will be hosting the special open evening on Friday 28 February, from 6pm to 9pm.
Kawasaki's strong 2020 line-up includes the brand new Supercharged Z H2 naked flagship, next-generation Ninja 1000SX sports tourer and significant updates to the Z900, Z650 and Ninja 650.
Customers and guests are urged to register to attend via the Green Friday banner on our website, or click here or the Kawasaki website.
Guests who have pre-registered will automatically be entered into a national draw for three prizes:
A ticket for a Kawasaki Days Germany Tour with Dragon Moto on 21-26 May this year. For full details of the tour, and what is included, visit www.dragonmototours.co.uk
A pair of World Superbike VIP hospitality tickets
A Club Kawasaki jacket
We'll also be choosing a winner on the evening for a prize given to the dealership by Kawasaki Motors UK – a Motorcycle Traveller book and DVD by legendary film creator Peter Starr – and two MCIA (Motorcycle Industry Association) bike covers.
Orwell Motorcycles director Dave Willis said: "With the new, updated models, Kawasaki has really listened to what people want. For a small increase in price there are a lot of useful updates and some nice styling changes."