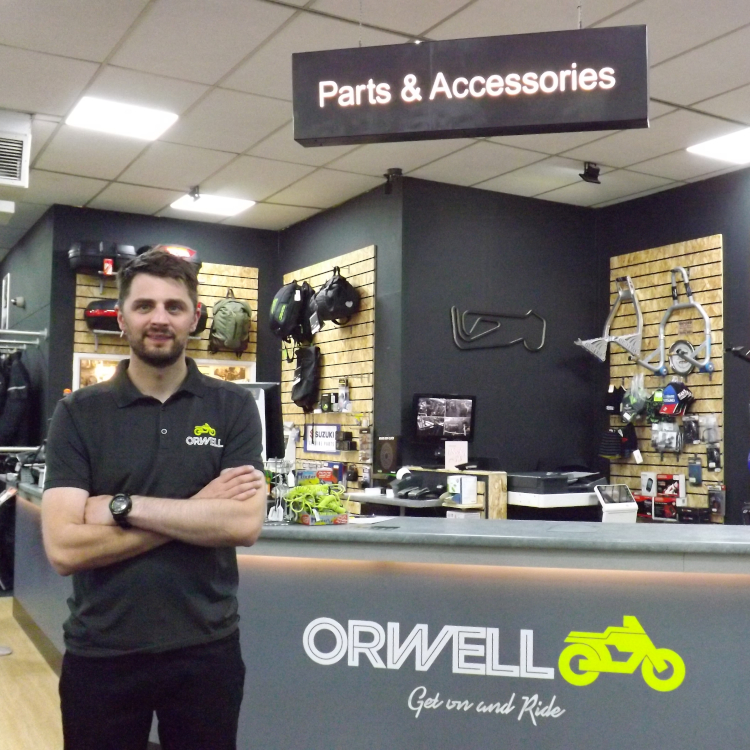 Dave Forster is a man of many parts… as well as clothing and accessories.
As manager of that department, he leads our team of motorcycling experts who are asked all kinds of technical questions by customers. So they have to know their stuff.
Dave, 32, has worked here for 14 years. He's always been in the parts department and became the manager two and a half years ago.
He's been riding motorbikes since he was a child – a Honda Monkey bike before taking to the road on a Yamaha RXS100 – and has owned 12 altogether. Currently he has a Kawasaki ZX-6R and Yamaha XSR 900 but is now looking at a motocross bike.
So what does he love about his job?
"I get to talk about motorbikes and motorbike stuff all day. It is a passion," he explained.
"We get to deal with all aspects of motorcycling here in parts and clothing. You never know what people are going to come in and ask for. A lot of people want advice.
"I have commuted, done track days, do a trip abroad every year on a bike and am starting off-road riding so I know a bit about everything. You really get to learn what works for you and in what scenario.
"You get such a big spectrum of questions about every type of bike and every type of clothing and it takes a long time to build up your knowledge."
The other people in the parts department who are on hand to give help and advice are James Wright, Dan Williams and Jade Marshall, they're all also keen riders.